/trash/ MEGA-Megacollection (WIP)
Models
Easter e17
Yiffymix (yiffy e18 and Zeipher F111)
Yiffymix 2 (based on fluffyrock-576-704-832-lion-low-lr-e16-offset-noise-e1) (Use Clip Skip 1)
YiffAnything
https://pixeldrain.com/u/QxV5FMjc
7th_furry tests (seem to be merges of the 7th layer models)
NovelAI Leak + VAE
NAI Hypernetworks
AnythingFurry
Lawlas's Yiffymix 1 and 2
2 has been merged with AOM3 and other anime models, hence the described need for high weighting of furry. I personally prefer 1, but try both and see what you like more.
The mentioned embeddings are on huggingface. Easy_negatives is on CivitAI, but shouldn't need an account.
Version 1
Version 2
▼Tips
Known problem(s):
▼Credits:
Here are models used as far as I can remember:
I apologize for not keeping a record of the models I used. Without their amazing work, this model wouldn't have even existed. Kudos to every creator on this site!
AbyssOrangeMix2 (for those without a Huggingface account)
AbyssOrangeMix2_sfw.safetensors
AbyssOrangeMix2_nsfw.safetensors
AbyssOrangeMix2_hard.safetensors
AOM VAE (rename it the same as the AOM model you use)
Frankenmodels (Yttreia's Merges)
Explanation:
The filename is the recipe. Minus symbols are averaged, plus symbols are added.
Tried avoiding any models that need special VAEs.
Uh, no real comments otherwise, my Twitter is https://twitter.com/Yttreia
Gay621 v0.5
Based64 Mix
Crosskemono (CivitAI, links last updated: 03/28/2023)
Crosskemono 2 (with added E621 Tag support)
If you make some cool gens with these, feel free to post them over on the Crosskemono CivitAI page and leave a rating - the author machine-translated his way onto /trash/ to ask for feedback and examples, and is bummed out he barely gets any feedback about what people think about the model over on CivitAI.
PC 98 Model
Low-Poly
Fluffusion
Direct DL link from CivitAI for r1 e20: https://civitai.com/api/download/models/80182?type=Model&format=SafeTensor&size=pruned&fp=fp16
Seperate Fluffusion rentry maintained by the model author (?): https://rentry.org/fluffusion
Below are links to the Prototype r10 e7 model; you probably won't need it, but it's here for posterity.
REVFUR
Fluff_Proto Merges
Tism Prism (Sonic characters)
https://archive.org/details/tism-prism-AI
Fluffyrock
Artist comparison: https://files.catbox.moe/rmyw4d.jpg
Repository (GO HERE FOR DOWNLOADS): https://huggingface.co/lodestones/furryrock-model-safetensors
Artist study: https://pixeldrain.com/l/caqStmwR
Tag Autocomplete CSV: https://cdn.discordapp.com/attachments/1086767639763898458/1092754564656136192/fluffyrock.csv
Crookedtrees (Full Model)
Use crookedtrees in your prompt
0.3(acidfur_v10) + 0.7(0.5(fluffyrock-576-704-832-960-1088-lion-low-lr-e22-offset-noise-e7) + 0.5(fluffusion_r1_e20_640x_50))
Monstermind (Style)
Use mmind and argon_vile in your prompt, on_back, high-angle_view, etc. Ghost_hands and disembodied_hand are hit or miss.
BB95 Furry Mix
Galleries
FluffAnon's Generations
Yttreia's Stuff
LORAs
LORAs from /hdg/
Malo LORA
Mokochi/Neferpitou (among others) LORAs apparently taken from /h/
Ber00, Elora, Fredina, Quotefox, Ralsei Meme, Rikose, Syuro, Hariet (Mario Odyssey), Double Deck, Volcarona, Claire (The Summoning) in the style of Anonymouse
Pokemon, Kikurage, Sindoll, Tsampikos and Hizake among many others (Professor Harkness)
Midna LORA from /h/
Various Styles
Amad, Kishibe, Pochincoff
Binah, Felicia, Meicrackmon, Taokaka
Moths, Pokemon (Style), Mai Shiranui (DubAnon) (New Link)
Another Fredina LORA
42160 Steps
80920 Steps
Matuura's Fox Girl (removed from CivitAI)
Splatoon Characters, Various Pokemon (Froslass, Jirachi, Toxicroak...), Youjomodoki (style) (AmmoniaM)
Miraheze (Ankha, Lopunny, Argonians)
Pale Kemono (Amari Akitsune)
Better Scalies
Ayabemiso
Shortstacks, Coco Bandicoot, Elora, Midna, Mirko, Priscilla, Ranni, Gwynever Dress, Goblins, Mothgirls, Yordles, PlantPenetrator, Pochincoff, tangobat, wamudraws
Majmajor
Blowup Doll Concept
Human art by Shinodage and Pestil (Keyword is "pestino")
Assorted HDG characters and LORAs
Ranamon
Birds
Guangjian Huang (@hgjart)
Cervina 7 (readme+Epochs 1-15)
Dr. Comet (Epochs 1-5)
Fursuits
Udders (from /d/)
Bubsy
kame_3t (Artist), Nanachi (Made In Abyss) + Various Furry Artists (among others)
Trish the Opossum
Honovy
OoT (Style)
Horror
Captain Amelia (Treasure Planet)
No-Swift, Miles-DF, Ruaidri
Rustle (Artist)
Apimiku
inCase
Blaze the Cat
Stylized 3D Anime LoRA
Narse, Skygracer, Jay Nailor, Raiji, Zourik (Artists)
Sagitta (Yu-Gi-Oh!)
Mergingbois
v4:
v5b:
Mei_Panda (Turning Red)
Feral Horses (from /vt/ of all places?)
anonfiles.com/F2V0P7i8z2/horse_safetensors
Roll (Mega-Man)
Responds to typical roll db tags + "rollchan".
Feralbois
C'mon with another gift, I threw a bunch of feral pics into the lora colab and out popped this. Feralbois v1. Trained on NAI with E621 tags. The dataset covers quite a bit though you may get mixed results on the anthro on feral positions. Its also a bit biased to felines...I was a lion king kid.
Lora: pixeldrain.com/u/NP87NGA2
Dataset: pixeldrain.com/u/VvT693oy
feralbois v2.
Dataset: pixeldrain com u Jc3svbHe
Fluff Trained: pixeldrain com u V6cosxNn
NAI Trained: pixeldrain com u kS25QCQY
Nanaki/RedX,III LoRA
Based off of yiffye, but seems to work with other checkpoints. Trigger word is "redxiii"
Tsukino (Monster Hunter Stories)
Waai Fu (Arknights)
Princess Luna + Twilight Sparkle
Steve Martin Style
Digby (Animal Crossing)
Able Sisters (Animal Crossing)
3D Midna (trained on Fluffyrock lion low-lr e22 offset-noise e7)
Brandy Harrington, Rebecca Cunningham, Slappy Squirrel, Miranda (Wakfu), Xerneas, Berri (Conker's BFD), Lammy and Rammy and many others
Nomax (artist)
Fluffy64
Shiron (Legendz)
Lycanroc
Rauru (Zelta TotK)
Trained on Fluffyrock
Urethral
I tried including all possible urethral scenarios in the dataset (tentacles, rods, penis in penis, tongue, arm) but im afraid im gonna have to make one for each. The results are a lot more coherent then base fluffyrock, but still fucky.
V1: https://mega.nz/file/XMYAFRBR#-PEJn6h1cGhwIGwPGM5PLmBZYL4LZnqP-BsM4g2fF98
So here it the urethral penetraion lora, use with "urethpen" tag among others, for example "penetration,urethral, urethral penetration, urethral bulge, urethralpen" will get the job done. Trained on fluffyrock lr-e27 with 350+ images (did some cleaning up), over 11k+ steps.
V2: https://mega.nz/file/2AIkDCgI#AyBBVHF4nUyBmGYDHzVaYej2H0bBjfv32NAVTwRSAdI
Pup Mask
trigger word is pup_mask with the underscore
Beverage in Sheath
LORAs from the Discord
Various Characters (FinalEclipse's Trash Pile)
BulkedUp
Here is the link to the LoRA, model formula, training dataset, and images of the examples:
Protogens
Link:
Mr. Wolf (The Bad Guys)
Wizzikt
beeg wolf wife generator (Sligarthetiger)
SnowskauCharr
Cervids
Various (Penis Lineup, Kass, Krystal, Loona, Protogen, Puro, Spyro, Toothless
Puffin's LoRAs
Pic taken 2023/05/16

Looking them over, some of these are likely the same ones posted before ITT, currently filed under "Birds" up above. Gonna leave it up, for posterity's sake.
Some of these are Lycoris files; check out this extension if you encounter problems.
Cynfall's LoRAs
https://mega.nz/folder/DRI0RY4Q#g1IJ7Ch1hM6-sAG7dGkJ7g
Feral on Female
Assorted Random Stuff
X/Y Grid of Artists
(Not embedded due to filesize)
Comparison of Base SD-Artist - Furry artist combos (done on an older furry model, likely YiffAnything)
thebigslick/syuro/anchee/raiji/redrusker/burgerkiss/blushbrush Prompt Matrix comparison (done on a Fluffyrock-Crosskemono 70/30 merge)
Vixen in Swimsuit artist examples (Model: 0.3(acidfur_v10) + 0.7(0.5(fluffyrock-576-704-832-960-1088-lion-low-lr-e22-offset-noise-e7) + 0.5(fluffusion_r1_e20_640x_50)) .safetensors) (DL link can be found above)
Different LORA sliders - what do they mean?
What about samplers?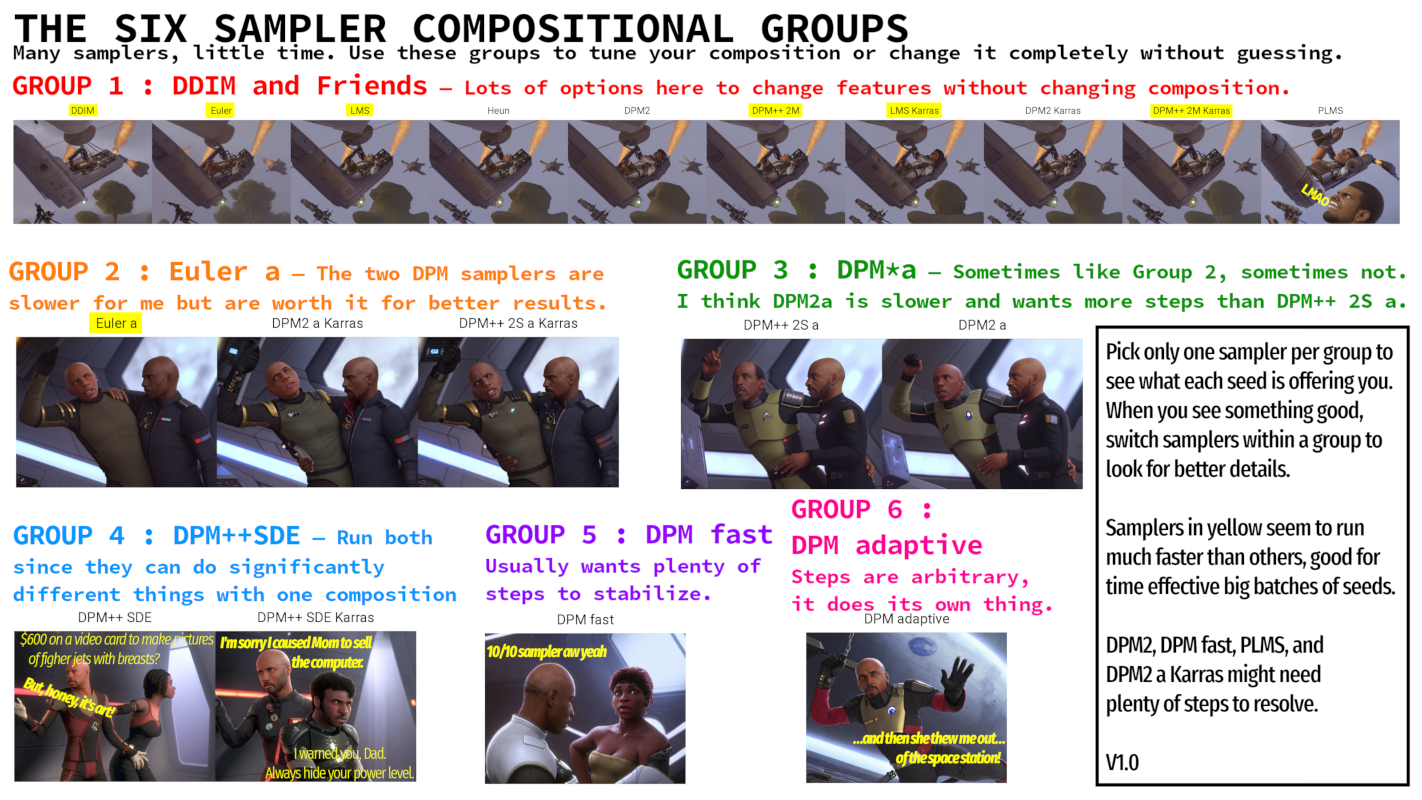 Script for comparing models
54395615
Okay, thanks? What am I supposed to do with this?
Wildcards
OpenPose Model
"What does ControlNet weight and guidance mean?"
Img2Img examples

https://imgbox.com/g/tdpJerkXh6
E621 Tagger Model for use in WD Tagger
Top 300 e621 artist wildcard (last updated November '22)
Upscaler Model Database
Recommendations are Lollypop and Remacri. Put in models/ESRGAN
https://upscale.wiki/wiki/Model_Database
Catbox Script for easier prompt sharing

This userscript adds functionality to upload to Catbox directly from 4chan, and to view metadata for Stable Diffusion, and now TavernAI, in JPEGs and PNGs.
https://gist.github.com/catboxanon/ca46eb79ce55e3216aecab49d5c7a3fb
Follow the instructions in the GitHub to install the userscript.
LoCon/LoHA Training Script / DAdaptation Guide
Script: files.catbox.moe/tqjl6o.json
Gallery: imgur.com/a/pIsYk1i
www.sdcompendium.com